AppleBelle was my childhood nickname that I still carry with me.

Love, knowledge, wisdom, temptation, joy, death, nature, rebirth, luxury: the apple is a symbol of life and all its' mysteries. A call to awakening, a realization: a bell heralds messages and pronounces. These meanings combined, AppleBelle is a symbol of an awakening and realization of life itself.
AppleBelle Address
It's AppleBelle and here I present my third edition of the bi-monthly blog bulletin. It's been almost precisely six months since I launched this blog (20th Jan 2017) and I've come to openly confess, I'm loving it. It's a great avenue to publish short spurts of my writing and talk about a wide range of subjects: philosophy to pop culture to technology…
Thank you to all the followers and readers; if there's anything you want philosophical inquiry or commentary on, please let me know via the comments (you don't even have to be a member of WordPress for that)!
You can follow AppleBelleblog via email or WordPress with share buttons and links at the bottom of a blog post.
Philosophies of Batman
Nana nana nana nana nana nana nana nana Batman!
A Batman fan, I shall soon be exploring, in depth, the philosophies contained within the various incarnations of the caped crusader. Christian Bale's Dark Knight to Adam West's Bright Knight, George Clooney's rather nipply bat and Ben Affleck's recent controversial characterization…who may have been blind as a bat considering the actor played Marvel's Daredevil. Horrible joke, I know.
Stay turned as I set the blogging batteries to power, turbines to speed. I shall roger and be ready to move out.
Minute Momentary Mind Insights!
My philosophy blog series, entitled, Minute Momentary Mind Insights! are great short snippets of philosophies derived from pop culture, media and novels! There's more to come soon, with my most recent editions on 1984, Batman, Star Wars and the Flash!
Got a minute to spare? A moment? Get an insight into my mind! Find posts from the blog series below:
Holy Minute Momentary Mind Insights! Batman
Minute Momentary Mind Insights! #5 Philosophies of 1984
The *Fourth* Edition Minute Momentary Mind Insights!
Minute Momentary Mind Insights!
The Second Instalment of…Minute Momentary Mind Insights!
Minute Momentary Mind Insights!
Philosophy in the Flash Update
Though posted a while ago, I again implore you to read my✍Philosophy in The Flash⚡️blog thread…because I've just begun my continuation of this philosophical journey into Season 2 of the series, exploring the notion of doppelgangers in a multiverse of possibilities!
Discover my newest Flash posts from Season 2 below:
✍Philosophy in The Flash⚡️ S2 Earth 2
✍Philosophy in The Flash⚡️ Season 2
Find all eight of my Season 1 posts here:
✍The Speed Force & Links to Time Travel⚡️
✍The Reliance of the Hero & the Villain on One Another: 'Binary Opposites'⚡️
✍Ethics of Superhero Justice, Power & Responsibility ⚡️
✍Trust, Alliance & Lies: Is it Noble to Lie?⚡️
My Spidey Sense Is Tingling
Additionally, I shall be webbing my way to a cinema as soon as possible to view the latest on-screen portrayal of Spider-man, as the newest movie in the Marvel Cinematic Universe. This means, you shall soon be in store for a radical review of philosophical themes…and probably a lot of fangirling.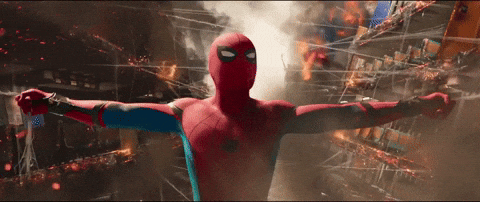 And finally, a trivial triumph…I Found
C
o

l
o
u

r
I'm feeling like Jonas from Lois Lowry's acclaimed novel, the Giver. Only now, after six months of blogging via this platform, have I discovered that I can make the text a different colour. Readers, you can look forward to an occasional burst of rainbow.
About AppleBelleBlog
Want to know more about AppleBelleBlog? Visit the About page.